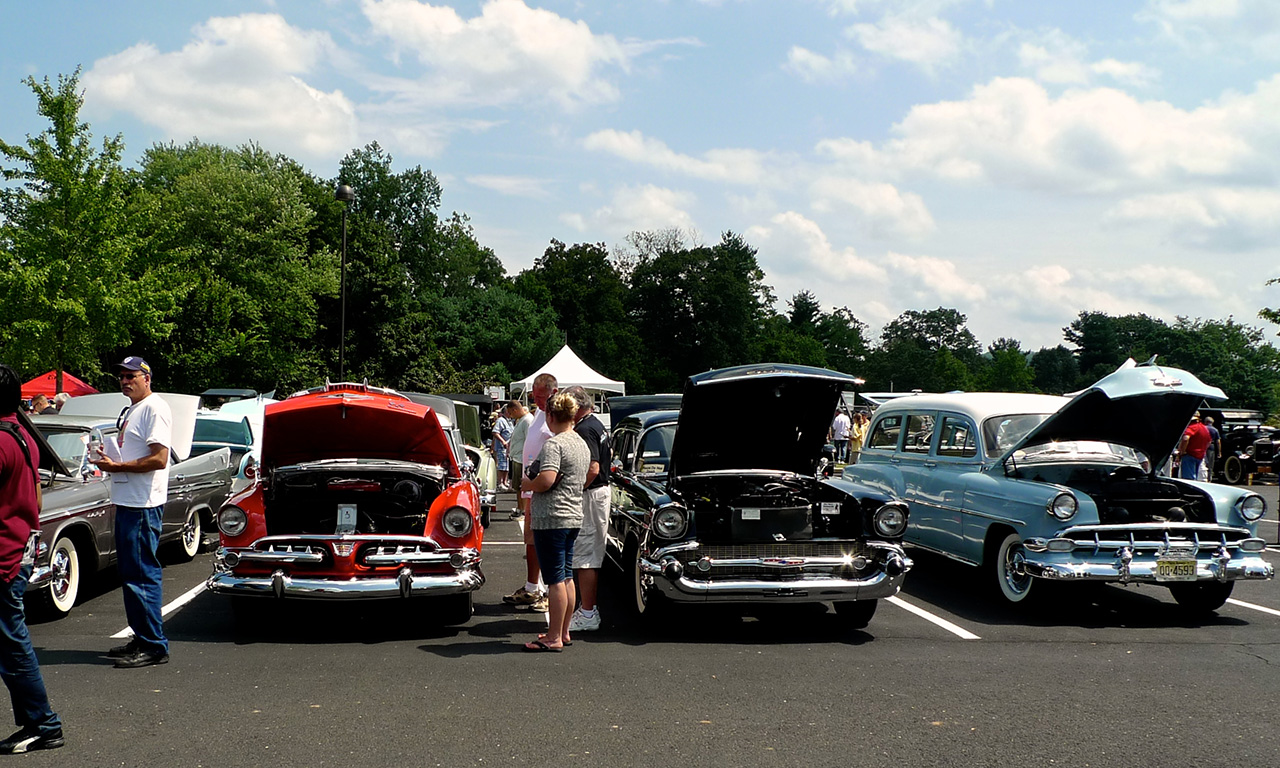 The Show has been in New Hope, Pennsylvania since 1957.
The auto show is held at the New Hope-Solebury High School on Bridge Street (Route 179) in New Hope, Pennsylvania. New Hope is located on the Delaware River in beautiful Bucks County. It's about one hour north of Philadelphia and just 35 minutes west of Princeton, New Jersey. Get directions. New Hope is a wonderful riverside town sharing the scenic Delaware River with Lambertville over on the New Jersey side. Both of these villages have terrific galleries, antique shops, inns, restaurants, taverns, and charming bed and breakfasts.
Auto Show Weekend Events
Saturday, August 11th, 10am
Vintage Auto Road Rally. For the last eight years, our very popular road rally has been a place for the family to enjoy the fun of a road rally in whatever car they preferred (the family car rally will be held June 24th). But this rally is just for antique and classic automobiles. Meet at the New Hope-Solebury High School at 10am. Bring a friend to navigate and a pencil and clipboard.
Sunday, August 12th, 9am – 4pm
Our 61st Annual New Hope Automobile Show. This year, because of continuing construction at the high school, we'll be inviting all marques to show on one day. Now there's no need to decide which day to attend – like last year, they're all on Sunday. Think of it, American and Foreign all on ONE DAY!
Show hours
The public gates open at 9am. The show runs through 4pm. The Parade of Champions begins at approximately 2:30.
Plan your visit
Whether you're planning a day trip, or weekend trip, we recommend that you make reservations early for lodging and restaurants. To help you, we suggest visiting one of the web sites listed here.
New Hope Chamber of Commerce
Bucks County Bed & Breakfast
Bucks County Conference & Visitors Bureau
Lambertville, NJ
Our sponsors can help
We have wonderful patrons and sponsors who support The New Hope Automobile Show. They actively support our efforts to raise scholarship money for area high school students and local charities. We ask that you patronize these establishments to show YOUR support as well. As our patrons and sponsors commit to support of this year's show, we'll be posting links to their respective web sites here.
New Hope Automobile Show
The New Hope Automobile Show takes place every year on the second weekend of August. See over 250 antique and classic automobiles each day.