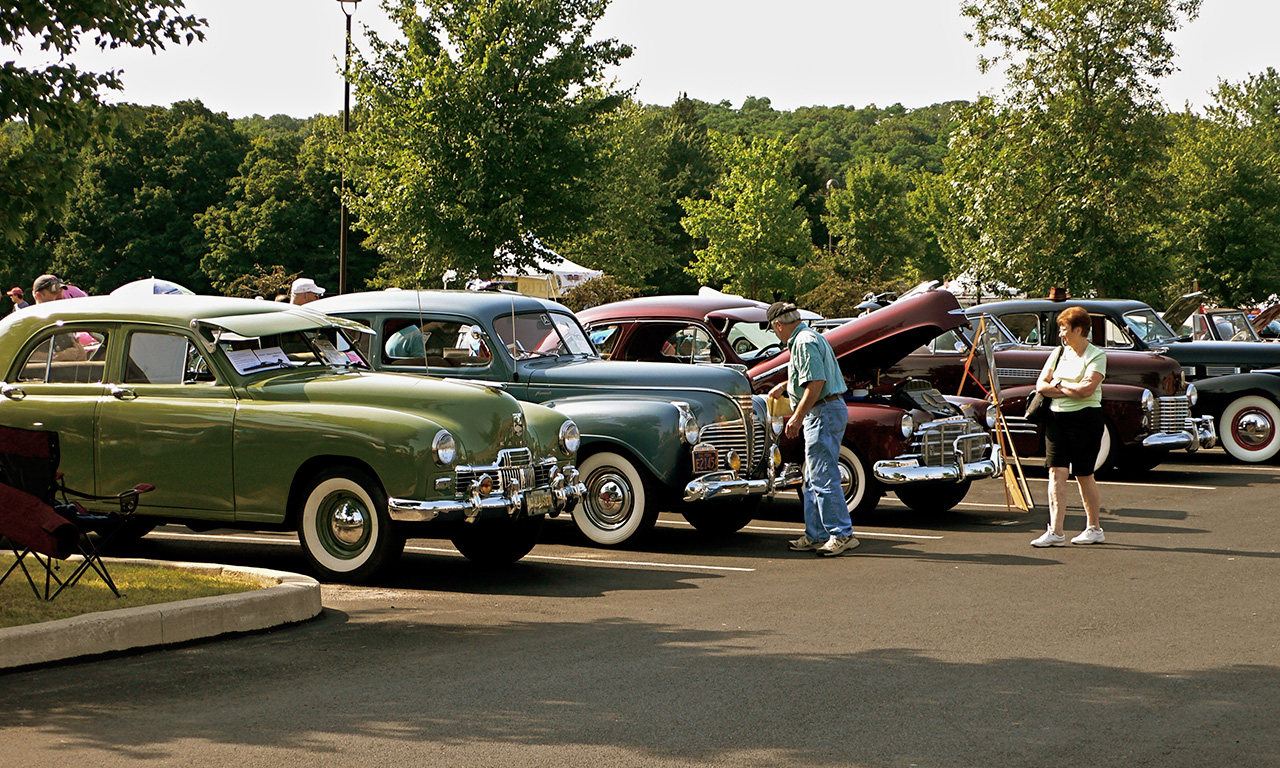 Which day should I come?
(We suggest <em>both</em> days!)
If you want to see all of the cars, you'll need to come both days. If you can't make it both days, then you can check this list to see which day has the most cars that you want to see.
Remember, it's a different show each day.
Saturday August 12, 2017
Senior Cars: All National prize winners to 1990
Cars of the Twenties: All domestic makes and models 1920-29
Cars of the Thirties: All domestic makes and models 1930-39
Cars of the Forties: All domestic makes and models 1940-49
Cars of the Fifties: All domestic makes & models 1950-59
Cars of the Sixties: All domestic makes and models 1960-69
Cars of the Seventies: All domestic makes and models 1970-79
Cars of the Eighties:All domestic makes and models 1980-89
Antique Trucks: All trucks to 1990 – Original or restored
Auburn/Cord/Duesenberg/Pierce-Arrow/Packard: All years and models (authentic only)
Avanti: All years
Corvette: All to 1990
Datsun/Nissan: Z cars only, no modifications; 1971 – 1990
Fire Engines: All to 1985
High Performance Production: All American made makes & models thru 1990: stock or restored only
Lincoln Continental: Lincoln, Continental, Zephyr: 1921-1990
Military Vehicles: All years to 1990
Model "A" Fords: All years
Model "T" Fords: All years
Mustang: All to 1990; stock or restored only
Nash: All years
Professional Specialty Cars: Cars modified for use as Coaches, Rescue Vehicles & Ambulances to 1990
Racing Cars-Domestic: Vintage and Contemporary, authentic cars thru 2000 (road race only)
Shelby: Original and Continuation Cobras, Series 1, Shelby Ford Mustangs all years
Studebaker: All models, including Lark – all years
Thunderbird: 1955 – 1966
Vintage Antique: All makes pre 1900 – 1919
Volkswagon: Karmann Ghia, Beetle, Bus, Thing – no modifications permitted; All to 1990
Woodies: All makes & models (no simulated wood )
Sunday August 13, 2017
Senior Cars: All National prize winners to 1990
Alfa Romeo: All years
Antique Motorcycles: All to 1990
Austin Healey: All years
BMW: All models thru 1990
Classic: Autos recognized by the Classic Car Club of America. See classiccarclub.org for listing
Corvair: All years
DeLorean: All years
Foreign Exotic: Aston Martin/Lamborghini/Ferrari/Maserati/DeTomaso/Pantera/FordGT/GT40, all years
French Connection: Citroen/Facel Vega/Peugeot/Renault; all years to 1990
Jaguar: All models thru 1990
Lotus: All years
Mercedes Benz: All models thru 1990
MG: All models and years
Morgan: All years
Porsche: All Models thru 2000 (no Cayenne SUV)
Historically Preserved Original: All Domestic and European makes & models thru 1990
Production Chrysler/Plymouth: All makes & models thru 1990 – Imperials to 1965
Production Ford/Lincoln/Mercury: All makes and models thru 1990
Production General Motors: All makes & models thru 1990
Racing Cars-Foreign: Vintage and Contemporary, authentic cars thru 2000 (road race only)
Rolls-Royce/Bentley: All models & years
Specialty Class Cars: Fiat/Lancia/Bugatti/NSX – All years
Triumph: All years
TVR: All years
Vintage Chevrolet: All models 1912 – 1960
Viper: All years